This might sounds pretentious as f**k but I always wisely choose a soundtrack when I cook. I need those inspiring musical artists and bands that pick me up, throw me to the wall, punch me in the face, get the emotions or adrenaline flowing and get me back on my feet (which is usually my all time favorites the Bad Brains or Fatality). I listen to a lot of different music, everything from Hardcore to Jazz and from Reggae to Grindcore - depending on my mood. Last night I was more in the mood for Peggy Seeger. Tonight it might be KRS-One.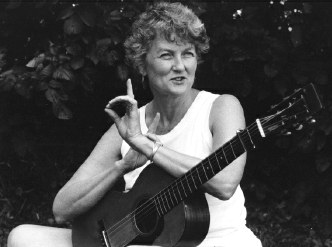 For those of you who don't know who she is, Peggy Seeger is an american singer/songwriter and activist (even though she doesn't call herself that), born in the city I call my second home - New York City. This wonderful woman calls the stage her battlefield and she's been fighting for justice and women's rights for decades, with her great songs. Behind her great voice is a woman tough as nails and someone that have refused to take shit from anyone who stands in her path. That's inspiration!
Her album "Heading For Home" is a fantastic album and it not only brings me to tears every time i listen to "Henry Lee", it is relaxing and makes me happy.
We'll enough of this pretentious crap. She's a great artist, "Heading for Home" is a great album and I just had to get it out of me, so have a great day everyone and keep up that PMA!